Military and Veterans
Join the many veterans, reservists, guardsmen and military spouses who are continuing to transform lives through their work at BMS. Making the transition from the military back to civilian life can be a challenge. To help, we formed a dedicated Veterans Community Network (VCN), where the support of fellow service members fosters engagement and creates a sense of community. Bristol Myers Squibb provides a rewarding work environment for veterans to build their careers and to create a new life for themselves and their families.
Your Plan
Think about your personal and professional goals and how you can apply your experiences to the journey ahead.
Transferable Skills
BMS considers military experience to be equivalent to many educational and technical requirements. Leadership, teamwork and efficient performance under pressure are just a few attributes military veterans bring to the corporate environment, and those attributes are strongly considered even when qualifications are not an exact match.
Your Job Search
Focus on jobs that not only interest you, but that you are also qualified to perform. A well-written resume will help recruiters see how your skills align with the job.
Your Resume
It's important to align your skills, training and accomplishments—and their relevancy—to the job's basic requirements. If you're applying to more than one job, it's often helpful to have several versions of your resume, each corresponding to the different roles/positions.
Your Interview
Before your interview at BMS, seek advice from someone who's been in your shoes. Your recruiter can connect you with one of our Veterans Community Network (VCN) ambassadors.
If you're ready for a career with us and have a disability that inhibits your ability to complete our application process, we're happy to provide assistance. Simply email adastaffingsupport@bms.com.
Continue Meaningful Missions
When you join BMS, you join a diverse, high-achieving team united by a common mission: to transform lives through science. You'll work alongside people who are not only talented and committed, but also passionate about making a real-world impact—because that's what you'll do every day. If you want to be inspired every day by incredibly interesting, life-changing work, that's exactly what you'll find at BMS. Whether it's Project Management, Manufacturing, Communications, Logistics or Cybersecurity, your transferable skills may be exactly what we need. Your mission is clear: apply today.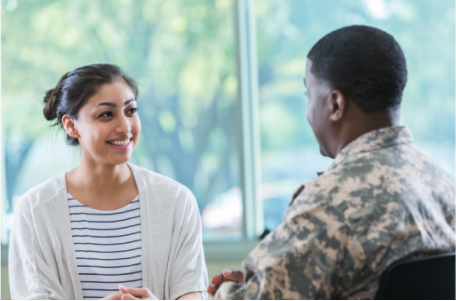 Supporting Military Members Like Ken Faria
Shortly after joining BMS, Ken Faria found out he was being deployed for several months as a member of the Air National Guard. Without hesitation, his manager and team stepped up to support him during his military leave—and then worked together to make his transition back into civilian life as seamless as possible.
This level of support is something every military-connected individual can expect at BMS. You'll also be directly supported by like-minded peers through our award-winning employee resource group for the military-connected community. Now is the time to apply the skills you built during your military career to help us change the future of health for humanity.
"Your leadership, experience in the military, and ability to problem-solve will allow you to quickly climb, whether your ambition is upward or lateral mobility."
Jose Munoz, U.S. Marine Corps Manager, Cell Therapy Warehouse Operations
BMS values my military service and understands the benefits veterans bring to the organization. My experience in the military taught me to adapt to complex situations and it contributes to achieving the business goals and objectives of Cell Therapy. Justin Strickland U.S. Army Veteran Associate Director, Network Project Management
Justin Strickland, U.S. Army Veteran Associate Director, Network Project Management
"Sometimes when we get out, we feel like we're behind. That we have to play catch-up to the rest of the world, but that's not the case. Your skills do translate." Read more > Rhonda Greer U.S. Navy Veteran Senior Manager, Cell Therapy Manufacturing
Rhonda Greer, U.S. Navy Veteran Senior Manager, Cell Therapy Manufacturing
Joseph still serves in the Army Reserve, but he's found a second meaningful career at BMS. Find your next transformational career by keeping in touch via our Veteran's Talent Community. Learn more > Joseph Montes U.S. Army Reserve Senior Clinical Trial Manager
Joseph Montes, U.S. Army Reserve Senior Clinical Trial Manager
5 Tips for Veterans From Veterans: Finding Success in a Civilian Career
Returning to a civilian workplace after military service is a great opportunity to use your leadership skills and experiences to grow your career. Discover how two veterans gained a newfound purpose when they joined BMS, and read their advice on how you can, too.
Our Support Is Inclusive of:
BMS recognizes that military spouses' careers are impacted by their service members' military service. That's why we partner with Hiring Our Heroes (HOH), a valuable resource with events and programs open to military and veteran spouses, as well as military caregivers. Learn more about HOH >
In addition to supportive management and leadership, BMS has a Military Leave Policy that provides full salary while an employee is deployed for up to 24 months, including additional time for readjustment.
Our company has a long history of employing veterans across our entire business. We find that veterans bring the leadership, perseverance, discipline and teamwork skills that enhance our culture and business results. From early-career candidates transitioning back to civilian life to experienced veterans seeking mid- to senior-level roles, there is a place for any veteran on our team.
Support for Our Service Members Starts at the Top
"We appreciate the values, leadership and unique skills service members bring to the workforce and will encourage opportunities to hire guardsmen, reservists and veterans. We will continually recognize and support our country's service members and their families–in peace, in crises and in war."


Read the full statement >

- Signed by Giovanni Caforio, BMS Chief Executive Officer,
on November 19th, 2019
Our Veteran Talent Community
Join our Veteran Talent Community to stay up-to-date on news, open roles and opportunities that can help in transferring your military skills into a career at BMS.
The Work We Do Is So Rewarding
We are proud to be one of the best companies for the military-connected community, helping to build careers and create new opportunities for those who have served our country.